Brazilian Cheese Bread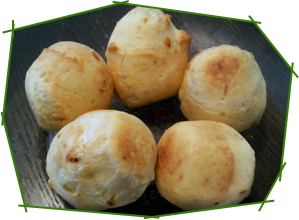 One of my favorite things about Brazilian BBQ or Churrasco restaurants is Pao de Queijo or Cheese Bread. Brazilian cheese breads are small puffs of bread that are filled with cheese. These little gems are unlike any bread that an American is likely to have eaten before. The key to these marvels is in the flour. Cheese bread uses tapioca flour instead of wheat flour. Tapioca flour is in fact a starch. It traps water inside the bread and when the bread is baked the water converts to steam and the bread puffs up. There are no chemical leavening agents in this bread. This bread is also gluten free.
Serve this Brazilian treat with beef, pork, or chicken and you will have your guests asking for the recipe.
Enjoy
Click here for the recipe or article...