Chicago Pizza Crust -- UNO's Style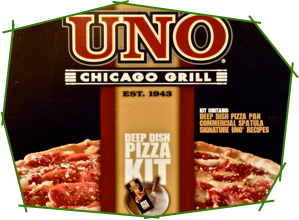 I am posting this recipe as a service to all of you that have purchased the UNO Chicago Grill Pizza Kit. I recommend this kit but it does have two huge problems. The first is that it never instructs you on how to make Chicago style pizza sauce. The second is that the dough recipe that is included in the kit is inedible. So after careful inspection I present a recipe that is as true to UNO's as is my clone of the Malnati's crust.
Enjoy.
Click here for the recipe or article...